Lockdown, connection, anxiety, singing, spring, Dept of Education, events, walking tribes, advocacy, a food cart and fathers day
30 August – 5 September
The weeks are jam packed and somehow this one disappeared before I could grasp it.
As lockdown in regional Australia moves into it's fourth week I am starting to notice my home starting to look very tidy. Lockdown has enabled  decluttering, a little extra effort to keep things clean and even a lick of paint (goodbye heritage yellow)! Being at home all of the time has given me more time to make sense of Sam's sage advice for the home layout – and even though I took some convincing on the 'modern farmhouse' theme, I'm really liking it now.
I'm only listening to the bare minimum of news now as I find the rising Covid numbers, and stories of civil unrest make me feel more anxious than I need to.
Connection has been a central theme this week – connecting with friends, family and my work team, connecting within myself and looking at new ways to connect more broadly in my work. I've had some lovely conversations with a variety of people – friends and colleagues new and old.  This really keeps my tank full in an otherwise pretty challenging and busy time.
While the connection has helped I must admit it has been an awful week of anxiety (well, a couple of them actually). I wrote about my experience of anxiety here, still something I believe we should speak more about.
Anyway, I realised that while wine is a tasty way to combat it, actually it usually makes it worse over time and I'd somehow forgotten to indulge in my usual remedies – singing, walking, getting outside and cooking good food. So this week I re-focused and made sure all of those things featured throughout the week.
As I finished up my zoom singing class with the fabulous Alicia on Wednesday I realised I was actually breathing again – so I've booked in two classes each week for the next month.
Spring and longer days makes life easier too and I even made it to the beach one afternoon after work with my youngest daughter.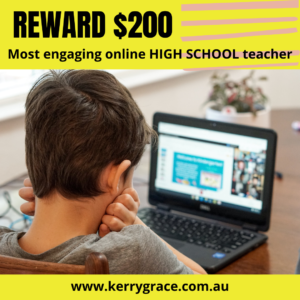 I've been trying to find great examples of online high school teaching this week – despite my (OK – meagre offering) of $200 I'm yet to find even one example. While I can see the teachers are clearly doing their best I despair about the lack of creativity applied in delivering online education at a high school level – and I'm seriously perplexed as to why the Dept Education hasn't invested more into improving this. It's not like lockdowns are going away.  Argh – I don't know why I keep using "I don't understand" and "Dept Education" in the same sentence.
Nevertheless, I've left the reward open until the end of the month, so if you know any exceptional online high school teachers fill me in please.
Busways, on the other hand have gone over and above with their new initiative (partnered with Transport for NSW) delivering school work to kids throughout my region. I was so excited to learn about this initiative which really mixes up the old: community engagement, snail mail, hand written school work – with the new (home schooling and lockdown).  Now, more than ever our communities are needing this kind of connection and I'm thoroughly on the lookout for other examples.
Speaking of moving with the times, everywhere I look events are being postponed or cancelled. Sure, in some cases this is essential – however, there are still so many opportunities in online events, many of which are yet to be fully exploited.  One of my favourite current musings is about the 'location' of online events and how we link a physical location to an online offering – even when we can't actually be there. Think about it… When people describe online events it's as if 'online' is actually a location – as opposed to a delivery mode. For RDAMNC's annual event, Ignite MNC our location remains the originally planned Wingham (NSW), the delivery mode will be online.  I went to my board early to make a conscious choice to go online as I also believe intentional online events offer so much more opportunity than accidental ones (more here).
I'd purchased tickets for Ziggy Alberts for my middle daughter's 18th
birthday and after a first postponement the concert was eventually cancelled. Know what he did ?  On Tuesday evening he invited ticket holders to a free zoom gig. It was such a heartfelt gig, really such a delight to attend. My daughter introduced me to Ziggy's peaceful music and I was also delighted to discover he also has a Norfolk Island connection (really missing that place by the way).
Walking is something I have been upping the ante on in recent months (in fact, in August I almost hit my goal of 100km for the month – watch out September !) – This month I've joined not one, but TWO walking tribes.  Both absolutely inspiring and encouraging groups (primarily groups of women), I find the accountability important to keep me motivated.
This week I also took advantage of what I'll call 'walking buddy' rule and had a walk in one of my favourite little towns, Bowraville with a good friend who I don't ever see often enough, Sue. The walk delivered in reams. Firstly – I told my Chief Operations Officer (Di) I would be starting work late as I was walking – not because I had to, but because I realised that sometimes as a leader you have to actually point out what you're doing so it becomes a cultural norm.  Secondly, I hadn't visited Bowraville for some time and my eyes nearly popped out as I saw the incredible work done to beautify the sports area. Honestly, describing exactly how beautiful it was in words is impossible.
Last night my middle girl and I watched The Bowraville Murders (documentary). Having such a strong family connection to this community, and of course following my numerous years working at MiiMi Aboriginal Corporation, this case still brings up very strong emotions for me.  I always wonder if advocated enough when I was in the thick of it, and what I could and should be doing now.  Thoughts with the families today, I cannot imagine how hard it is to re-live this again, and again in such a public realm.
Necessity, as they say is the mother of all invention and I really haven't ever worked with such an innovative community as Bowraville. When I had my Thursday AM walk I noticed a food cart in front of someone's house.  Turned out that rather than shutting shop during lockdowns when festivals and markets are closed, the owner set up at home and has been selling out of dinner orders for the past weeks. The cart is in fact so popular the owners have also established coffee in the morning and a lunch menu.  With very limited access to other cafes in the township it appears there is plenty of room for the business offering. I ordered my Saturday dinner and was delighted not only to try Cebu Chew's delightful Thai flavours but also to experience the anticipation of the wait from the Thursday order to Saturday pickup.
Today is father's day. For many years now it's been a mix of emotions for me. I miss my dad often but of course know beyond doubt he wouldn't have wanted to live as he was "if I ever end up like that, shoot me" he would have said.  I wrote this for dad in the last years.
My mum's partner, Pop Don never pretended to be my dad, however after 30 years I realise he comes equipped with the same dad jokes, open heart, love of my children and willingness to do whatever it takes to help me have a good life, we are pretty lucky to have him. Happy dad's day Pop Don.